And now for some blues, for people who likes the blues.
I'm fixin' to take my yearly trip to St. Louis soon, so I've been listening to What You Hear Is What You Get: Live at Carnegie Hall in anticipation. I think this LP has my favorite cover art of all their albums: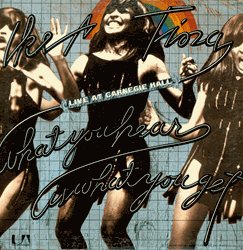 The Carnegie Hall gig was released in 1971. The liner notes don't mention when it was recorded, but since Ike was usually very prompt with his output, I'll just guess this was recorded in '71 as well.
I seem to recall that in Ike's autobiography he mentions that he barely remembers this performance–it went by in a druggy haze. Too bad, because this is a tight record — the live versions of "Proud Mary" and "I've Been Loving You Too Long" that you hear on the radio are from this album.
I especially like this live version of "I Smell Trouble," a blues song they recorded on The Hunter album. Tracks like this make you think about how if Ike would not have been so intensely driven he would have had a straight-up blues guitar career, maybe been the Buddy Guy of St. Louis.
"I Smell Trouble" runs about eight minutes here, it follows their long, hectic version of "Proud Mary."  It's a nice change of pace, and Ike's guitar work is masterful.  I like Tina's blues singing live better than I did on The Hunter. I think her stage emoting adds the right kind of drama to the song. Her delivery tears at you a bit — she's just as strong on the rock songs, but the slowed down tempo of a blues song gives you room to better appreciate Tina's singing.
They do a little bit at the end of the song where Tina sings a line and Ike copies it on guitar and she tries to stump him.  Finally she reaches deep down for a low note, and laughs to herself.  It's a charming moment, a bit of playfulness. (Though probably something they did night after night,  like all their stage patter.)